"Different people have different interpretations about home. After 「The Rhythm Of Fantasy 」, 「Tangram」 and 「The Fourth Element」, we've found a brand new way of interpretation ---- the 「ARTIST HOUSE」. 「ARTIST HOUSE」 is not only a buyer store but also an art gallery. The collision between classic and contemporary, aroma of coffee and the magic of art will bring you new sense of belonging and excitement."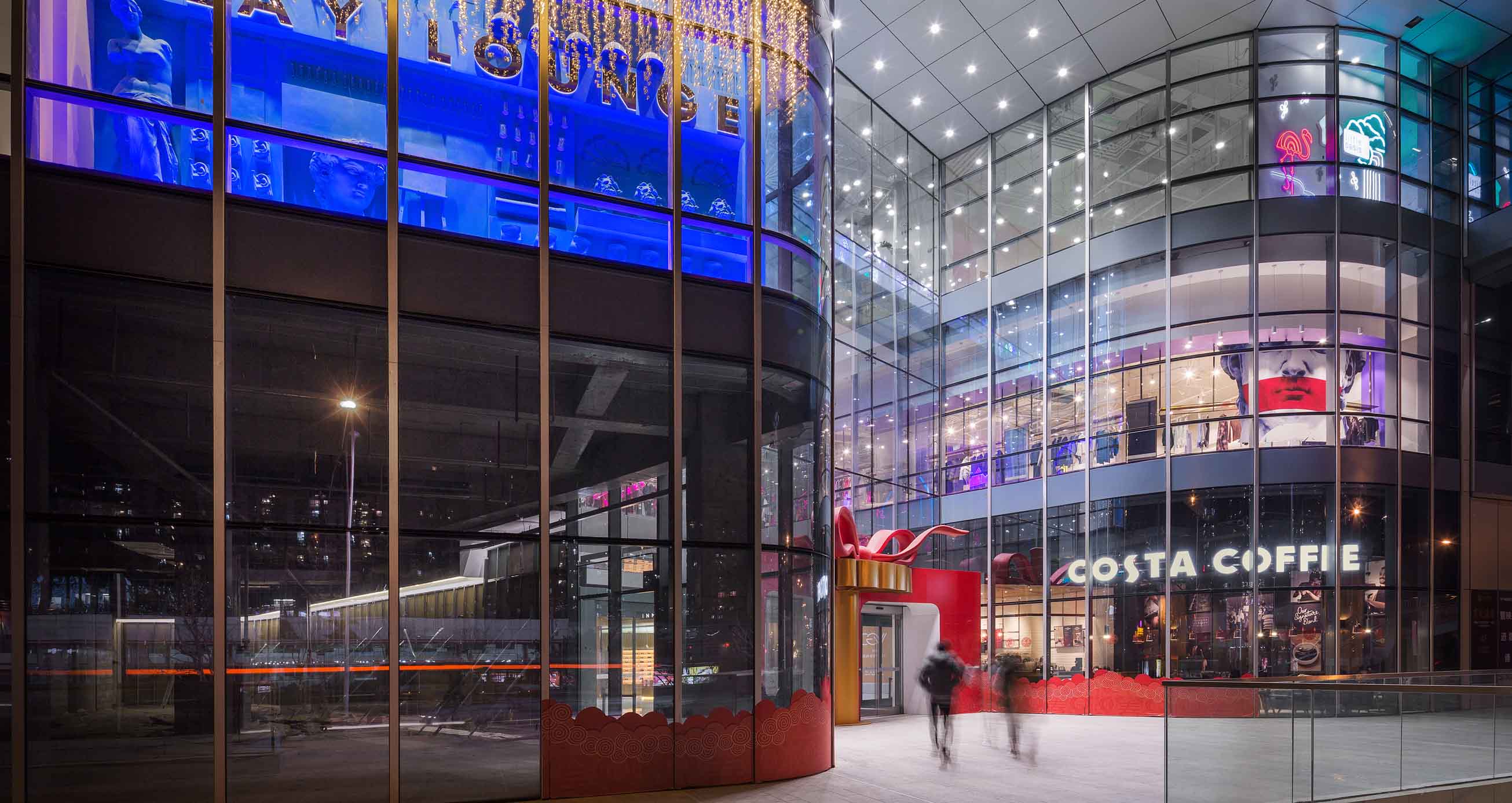 Multi-brand buyer stores have traits different from traditional brand stores, and as for different sites in a region, subtle changes in the consumer group will produce different chemical reactions.
PLAY LOUNGE is a designer store brand of young and energetic, and since the first terminal store of the new generation of the brand image upgrading was set up, designers have established an amiable and sustainable terminal concept for the brand – PLAY "Home", and each store is implanted with a unique temperament that is in line with the city and geographical relations.
Located in Hopson One Business District on Dawang Road of Beijing, ARTIST HOUSE is adjacent to JINRI Art Museum and the 22th Art District. Special geographical location urges the birth of the concept of ARTIST HOUSE, and designer Sissibu hopes that ARTIST "HOUSE" can add a touch of consumer atmosphere with artistic temperament to this terminal store.
ARTIST HOUSE includes five designer clothing zones, a coffee bar and lounge, accessories zone and a beauty salon. Three blue-purple "ribbons" runs through the entire place, playing the role of space integration and dynamic guidance.
David, Venus and other classic sculptures are integrated into the entire space with contemporary approaches, enhancing the interaction between consumers and space theme.
Symphony glass has always been the iconic element of the brand since the first store of "THE RHYTEM OF FANTASY" created by ISENSE DESIGN, and what is different is that, this time the designer has added the blue linear light source, which has reduced the sweetness and added a touch of mystery and sense of future combined with magical silver metal plates developed from the car surface paint process.
The tradition of PLAY LOUNGE store has always been a place for each consumer to find the sense of social and entertainment instead of a store simply for shopping. Therefore, a nice café is an important part of ARTIST HOUSE and in addition to beautiful new clothes and fun fashion goods, there is always a place for you to settle and enjoy drinks and desserts.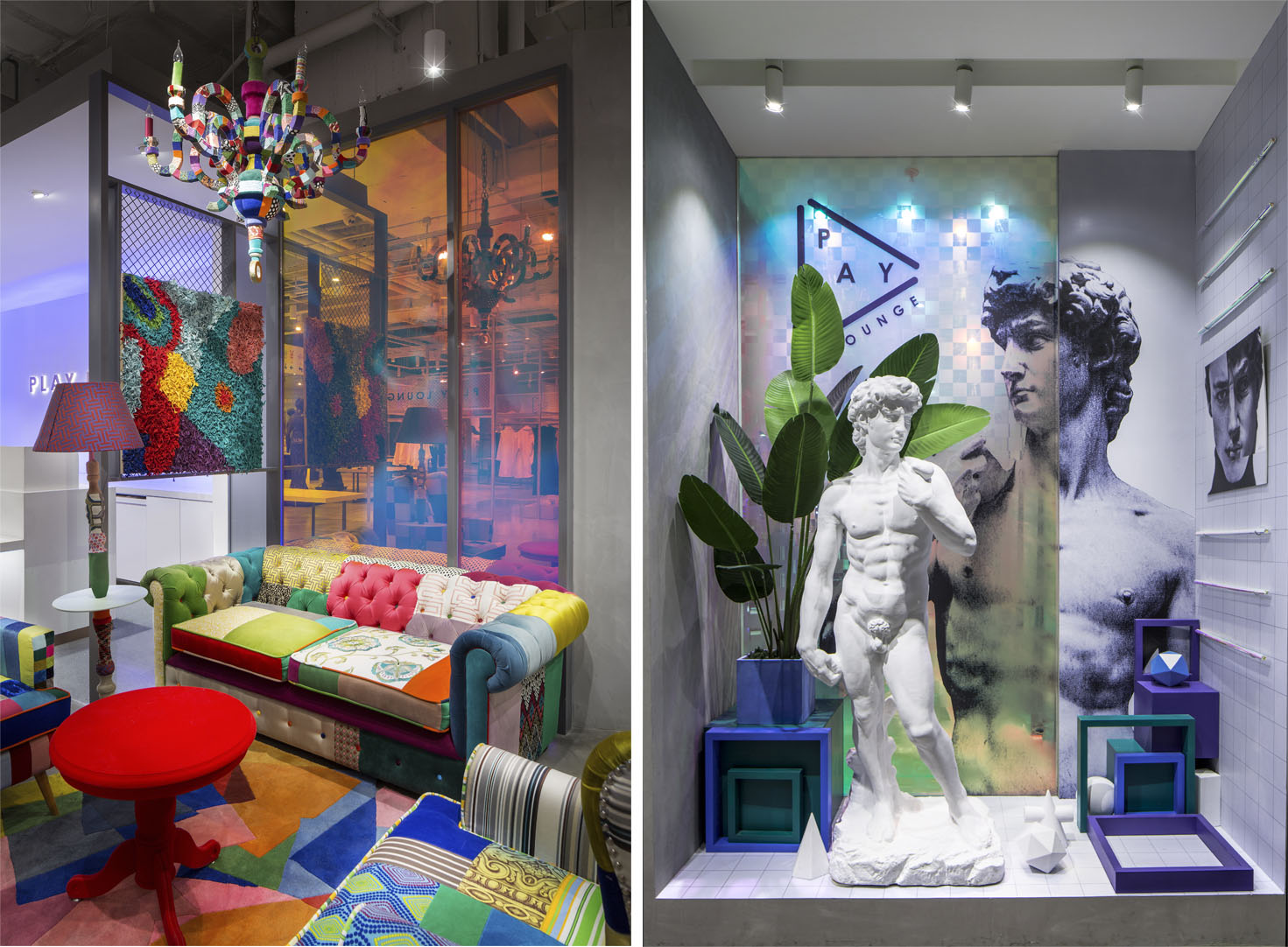 One of the most important feature of the buyer store is one-stop services, and apart from clothing, cosmetics, aromatherapy, jewelry, shoes and bags, there is also a PLAY SALON in the store – "you can tell an elegant lady from her underwear and an exquisite lady from her fingernails". ARTIST HOUSE provides everything you need from top to bottom.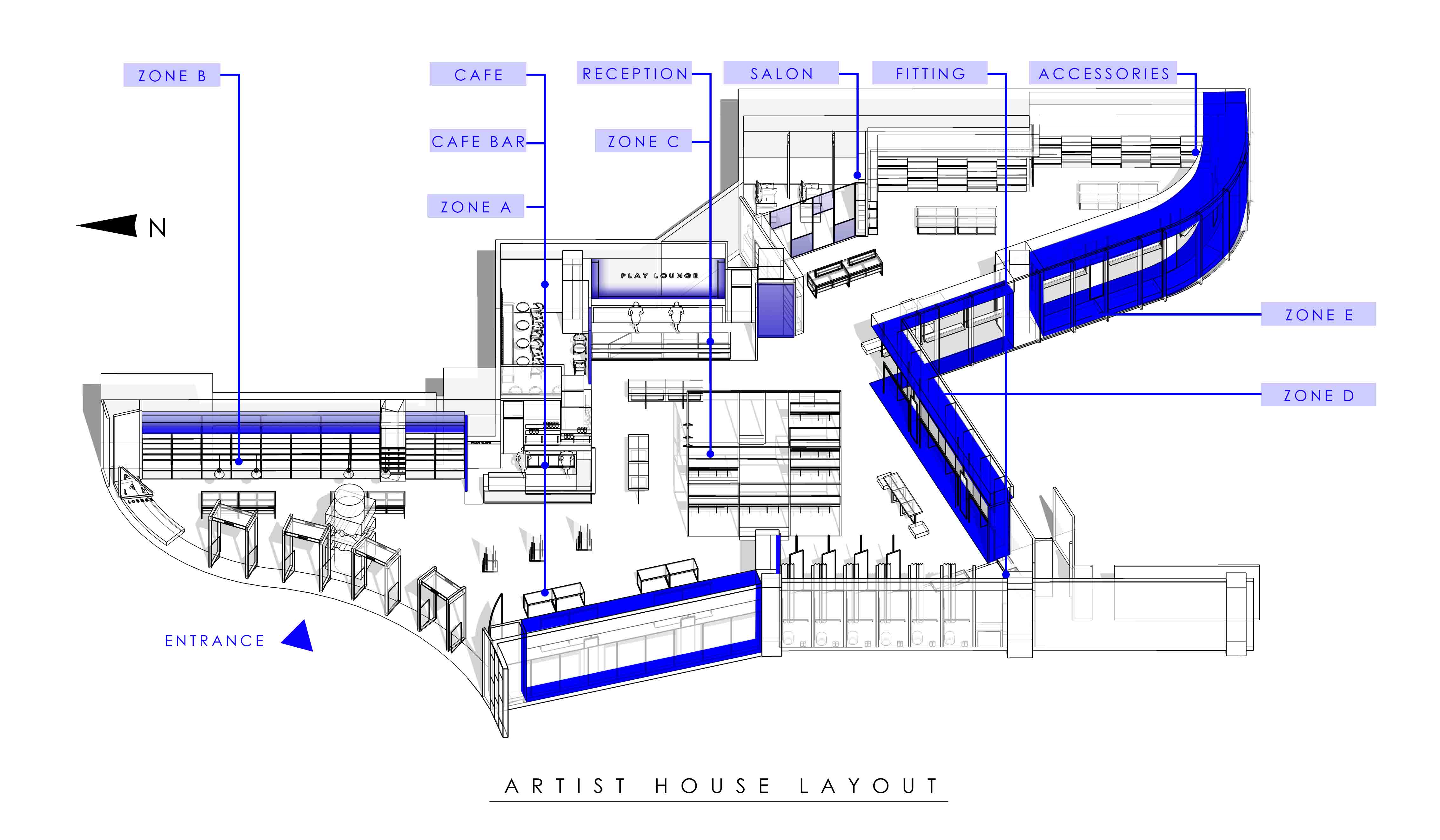 Opening time: 2017.12
Design team: ISENSE DESIGN
Chief designer: Sissi Bu
Participate designer: Skiven Shi、Chris Zhu
Display designer: YOYO Gao
Photographer: Steven Lv
Project area: 764 ㎡
Client Brand: PLAY LOUNGE
Brand/Project:TAKNAI art resin paint
Cooperate Brand: CASA GAIA